Avoid these 5 common mistakes in NEET MDS preparation and score higher
Hello, dental students! NEET MDS is a big deal, and you know it. But did you know that some common mistakes can stop you from scoring high? Let's discuss the mistakes you should not make and how to stay away from them. And don't forget, our MDSPrep App is here to help you get through NEET MDS like a champ.

1. Not having a study plan
Mistake: You start studying without any plan and end up confused.
Solution: Make a study plan and stick to it. Our MDSPrep App can help you manage your time better.
2. Ignoring basic concepts
Mistake: Jumping to complex topics without understanding the basics.
Solution: Go back to basics. If you get them right, the tough parts become easy. MDSPrep has Bytes Synopsis that make basics strong.
3. Ignoring mock tests:
Mistake: Mock tests aren't just for assessment; they help you learn the exam pattern and manage time better.
Solution:The MDSPrep App offers a NEET MDS and INICET mock tests that mimic the actual exam conditions.
4. Delay and poor time management
Mistake: You keep saying, "Iíll study tomorrow." Delaying tasks and poor management of time can have a disastrous impact on your preparation.
Solution: Tomorrow never comes. Start now. With the MDSPrep App, you can set reminders for study sessions, practice tests, and revision. The app helps you stick to your schedule, ensuring consistent preparation.
5. Not reviewing mistakes
Mistake: Moving on without understanding why you got a question wrong.
Solution: After each mock test on MDSPrep, review the detailed explanations provided. This ensures that the same mistake isn't repeated in the actual exam.


Conclusion
NEET MDS is a challenging exam, but avoiding these common mistakes can dramatically improve your chances of scoring higher. The MDSPrep App, with its extensive features like study planning, practice questions, and performance analytics, can be your go-to resource for achieving your dream score.
So, donít delay any further. Download the MDSPrep App now and start your journey towards a successful NEET MDS preparation.
Question: Inadequate revision
Answer: Failing to revise can hurt your performance. The MDSPrep App includes a handy feature that lets you track your revision schedules effectively.
Question: Neglecting mental and physical health
Answer: Preparing for NEET MDS can be taxing, but don't let it take a toll on your health. Proper sleep, balanced diet, and some physical exercise can go a long way.
Question: Isolated study
Answer: While self-study is critical, group studies or discussions can offer a fresh perspective and help in grasping difficult topics.
Question: Not understanding the syllabus
Answer: The syllabus is vast, and without knowing it inside out, you might end up spending too much time on less relevant topics.
Question: Overconfidence or underconfidence
Answer: Either neglecting areas you think you are good at or avoiding areas you find challenging. Use the analytics feature on MDSPrep to identify where you actually stand in each subject and adapt your preparation accordingly.
Question: Relying solely on books
Answer: Ignoring interactive and diversified resources like mock tests, videos, marathon and Pro WhatsApp group discussions.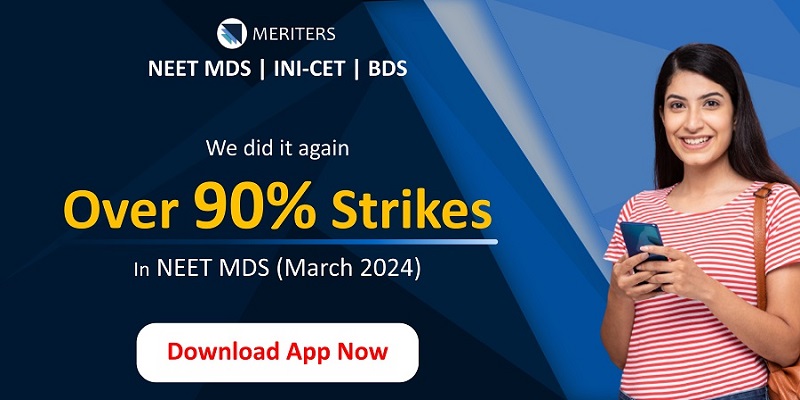 Updated Oct 05, 2023.