NEET MDS - How to prepare for Endodontics?
Based on a lot of queries and requests from students, MERITERS has come up with a "How to Prepare?" series of blogs and articles which will guide you through the right approach towards NEET MDS preparation.
Endodontics is one of the most important dental subject clinically as well as theoretically. Therefore, it must be prepared strategically for mastering MDS entrance exams.

While preparing for NEET MDS, every student has a certain set of questions in their mind. The typical questions are:
What is the Subject wise weightage?
Which Books to refer?
How much time should be allocated to each subject?
What are the important topics?
What are the types of questions that are asked?
This article will answer the above questions and help you prepare with the right approach and strategies.
What is the Subject wise Weightage?
Based on previous years question paper analysis of NEET MDS, there are about 6 to 8 questions out of 240 asked in the exam which is hardly 3% but its a low hanging fruit since you have been studying Endodontics in the final year and also practicing during the internship. This subject will be on the top of your mind, therefore easy to score in the NEET MDS.
Standard books to refer?
Grossmans Endodontic Practice is the most basic & widely used book for Endodontics. You can expect about 80% of questions asked from this book alone, while there are certain other topics beyon dthe scope of this book like Anatomy of pulp cavity, image based or diagnostic questions which can be covered by referring to Cohens - Pathways of the pulp. For studying indepth Microbiology for Endodontics you could refer Ingle's Endodontics.
Note: Brush up your basics by referring the followng Standard books only since the exam making body NBE, derives questions from standard books of this subject:
So it becomes very important to follow these books; again seeing the time constraints and the amount of syllabus to cover. Aspirants can dedicate hardly 1 week to cover this subject. So the need to know the important topics increases. No need to say that smart work along with hard work will fetch you a good rank.
Experts at MERITERS MDSPrep have come up with a list of important topics to read for the examination after analyzing the recent trends of NEET MDS. The most important topics to study are:
Endodontics - Important Topics (Watch above video for elaborate details)
UNIT
IMPORTANT TOPICS

Anatomy of the pulp cavity

Dental Pulp

Structure and morphology of pulp
Innvervation
Blood supply

Tooth Morphology

Apical anatomy
Dummer's classification
Kim et al classification
Pattern of root canal
Classification of root canal
Individual variations

Access cavity preparation

Objectives and Principles
Shape of Access Cavity Preparation

Diseases of pulp and periapical tissues

Pathologies of Pulp

Classification of pulp pathologies.
Pulpal Pain and Innervation

Periapical pathologies an overview

Biomechanics

Instruments and Devices

Instrument classifications (Grossman and ISO)
ADA specification of important endodontic materials
Group 1 hand instruments
Group 2 Slow speed engine driven instruments
Group 3 Powered instruments
Group 4 Semi adjustable files
Group 5 Sonic and Ultrasonic instruments
Group 6 Reciprocating instruments
LASER

Materials

Root canal irrigants
Medicaments
Root Canal Sealers
Core materials

Working length and Cleaning and Shaping

Working length
Cleaning and shaping

Disinfect and obturation

Obturation

Warm Compaction
Cold compaction
Thermo Mechanical compaction
Chemically plasticised GP
Carrier based GP
Thermoplasticized GP

Bleaching

Bleaching

Classification of dental stains
Classification of bleaching
Agents for bleaching
Power bleaching (In office )
Night guard Vital bleaching
Walking bleach
Thermocatalytic bleaching and microabrasion

Endodontic surgery

Surgical Endodontics

Gutman's classification
Flap design
Root end preparation
Root end filling
Root end conditioning
Landmarks in healing after surgery

Traumatology

Endodontic Traumatology
Crown Fracture
Root Fracture
Luxation injuries
Avulsion
Avulsion with dentoalveolar fracture

Miscellaneous

Endodontic Diagnosis

Pulp Testing classification
Pulp sensibility test
Pulp vitality tests
Radiographic diagnosis

Restoration of Endodontically treated teeth

Restoration of endodontically treated teeth
Types of questions asked?
The different types of questions that may be asked from Endodontics based on previous exam analysis are:
1. Case Based
We hope this blog will assist you in preparing this subject meticulously for MDS entrance exams.

Prepare judiciously..
Keep Following MERITERS!!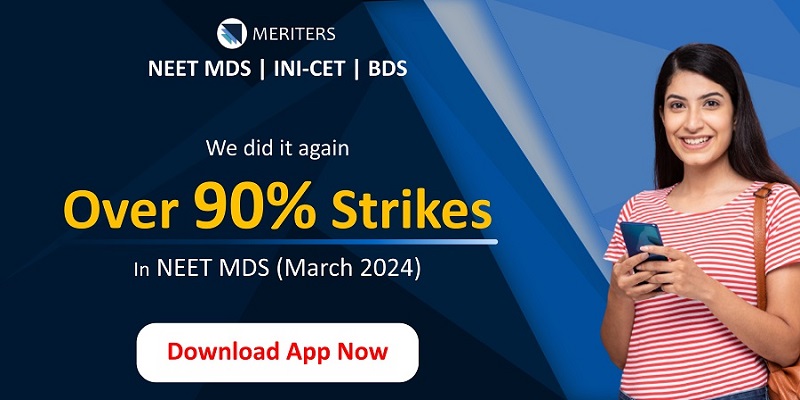 Updated Sep 09, 2020.