Tips to revise Oral Pathology for NEET MDS with MERITERS GRP
Oral Pathology is a highly extensive subject. Owing to its vast syllabi, it becomes very difficult to memorize and retain the entire syllabus of Oral Pathology. Therefore, you must follow a Selective approach while preparing for Oral Pathology.

In order to assist you in your preparation of Oral Pathology, we have compiled this article which will acquaint you with the Most Important Topics of Oral Pathology from NEET MDS perspective.
Oral Pathology Part1
Topics Covered:
Developmental Disturbances
Developmental disturbances of Teeth
Developmental disturbances size & shape
Developmental disturbances of Face
Developmental disturbances of Tongue
Developmmental disturbances of Jaw
Benign And Malignant Tumours Of Oral Cavity
General consideration
Precancerous lesions and conditions
Basal cell carcinoma
Squamous cell carcinoma
TNM staging
Treatment modalities
Verrucous carcinoma
Hemangioma
KAPOSI 's sarcoma
Nevi
Melanoma
Neoplasm of Muscles, Nerve tissue
Multiple myeloma
Connective tissue tuomours of Jaw
Burkitt's lymphoma
Odontogenic Cysts And Tumours
Ameloblastic Fibroma and Ameloblastic Fibro -Odontoma
Follicular, Plexiform & Acanthomatous Ameloblastoma
Granular Cell Desmoplastic Ameloblastoma and Unicystic Ameloblastoma
Introduction
Introduction & Clinical Features
Malignant Odontogenic Tumors
Developmental Non Odontogenic Cysts
High Yield Facts
Inflammatory Non Odontogenic Cysts
Developmental Odontogenic Cysts
Golden Points
Inflammatory Odontogenic Cysts
Squamous Odontogenic Tumor, Cementoblastoma And Odontogenic Myxoma
Diseases Of Salivary Glands
Mucocele and Ranula
Mickulz's disease and Sjogren syndrome
Pleomorphic adenoma
Warthin's tumor
Cylindroma
Oncocytic adenoma
Dental Caries
Theories of dental caries
Etiologies of dental caries
Stephan's curve
Classification of dental caries
Histopathological zones of Dentine
Histopathology od dental caries (Enamel caries)
Pulp And Periapical Infections
Classification of periapical infection
Cellulitis
Ludwig's angina
Osteomyelitis
Physical And Chemical Injuries
Physical And Chemical Injuries
Pigmentations
Regressive alterations of teeth
Mucocele
Other physical and Chemical Injuries.
Oral Pathology Part2
Topics Covered:
Diseases Of Bones & joints
Osteogenesis imperfecta
Osteopetrosis
Achondroplasia
Osteoporosis
Cherubism
Fibrous dysplasia
Paget's disease
Cleidocranial dysplasia
CGCG
Syndromes associated with bone
Osteosarcoma
Diseases Of Nerves & Muscles
Trigeminal Neuralgia
Glossopharyngela neuralgia
Bells palsy
Syndromes associated with nerve pathology
Disease of Muscular or connective tissue origin
Skin And Vesiculobullous Lesions
Skin lesions
Ectodermal dysplasia
Lichen planus
Erythema multiforme
Classification of vesiculobullous lesions 5Psoriasis
Miscellaneous
Bacterial Infections
Sinus
Botryomycosis
Sarcoidosis

Syphilis

Actinomycosis
Leprosy
Viral Infections
Herpes Simplex Virus
Herpes Zoster
Cox sackie virus
Paramyxovirus
Apthous ulcers
Mycotic Infections
Candidiasis
Histoplasmosis
Mucormycosis
Phycomycosis
Oral Aspects Of Metabolic Diseases
Vitamin D deficiency
Hyperparathyroidism
Hyperpituitarism
Hand Schullar christian disease
Hypophosphatasia
Amyloidoisosi and other disease
Tongue Disorders

Pigmentation

Diseases Of Blood
Hemophilia
Von Willebrand's disease
Types of anaemia
Aplastic anaemia
Thrombocytopenic purpura
Leukemia
Oral Pathology - Image based and case-based questions
The images are provided in order to check your understanding. These questions might seem tricky and may even demand a detailed analysis. Yet these will turn out to be extremely beneficial. The tighter your grip over such image-based, visually answered questions, the higher are the chances of your success.
Oral Pathology - Full syllabus test
This test renders you the opportunity to revise the whole syllabus thoroughly, in order to make sure that you revise all the previous tests thoroughly with their solutions. This test gives you good amount of repeats from previous 3 tests (Just like you get good amount of repeats in your NEET and AIIMS exams too).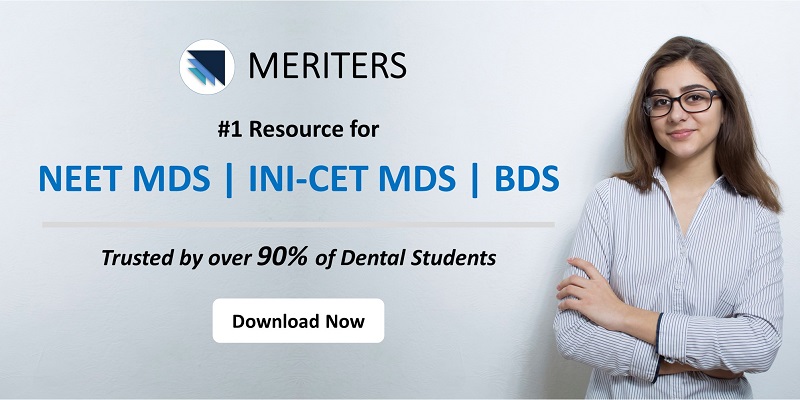 Updated Sep 12, 2020.