Tips to revise Public Health Dentistry for NEET MDS with MERITERS GRP
Public Health Dentistry earlier known as Community dentistry is one of the upcoming fields in dentistry. With India's basic healthcare and oral hygienic needs yet to be met, this subject is very lucrative.
However, it is a very dry subject and monotonous. So students often put it out for last and avoid it.
This article will share with you all with the Tips to Prepare Public Health Dentistry for NEET MDS:
Following are the list of important topics under part 1 & 2;
Public Health Dentistry - Part 1
Biostatistics
Data variables and scales
Measures of central tendency
Distribution Normal and skewed
Sampling
Probability and odds
Statistical test
Correlation and regression
Errors and P value
Epidemiology
Introduction
Introduction to concept of health and objectives of achieving health
Concept of control and causation
Programme and Types of evaluation
Levels of prevention
Terminologies in disease pattern
Measures in epidemiology
Measures in epidemiology ; Qualitative and Quantitative data
Classification of epidemiological studies
Descriptive epidemiology
Analytical epidemiology
Experimental epidemiology
Epidemiology of various disease
Indices
Classification of Indices
DMFT
PHP and PDI index
Russel's index
Dean's Index
CPITN
Public Health Dentistry - Part 2
Preventive Dentistry
Caries Activity Tests
Fluoride
Topical fluoride
Systemic fluoride
Fluoride toxicity
Historical background
Waste disposal
Different methods of waste disposal
Hospital waste management
Oral hygiene Methods
Principles of health education
Typical dentrifices components
Brushing Techniques
Dental health education
Educational aids used in health education
Group discussion
Dental Fee payment - Different mechanism of fee payment

Auxillary health workers
Classification of health auxillaries
Registered auxillaries in India
Ergonomics
Community medicine
Forensic odontology, jurisprudence and Ethics
Public Health Dentistry- Image based and case-based questions
The images are provided in order to check your understanding. These questions might seem tricky and may even demand a detailed analysis. Yet these will turn out to be extremely beneficial. The tighter your grip over such image-based, visually answered questions, the higher are the chances of your success.
Public Health Dentistry - Full syllabus test
This test renders you the opportunity to revise the whole syllabus thoroughly, in order to make sure that you revise all the previous tests thoroughly with their solutions. This test gives you good amount of repeats from previous 3 tests (Just like you get good amount of repeats in your NEET and AIIMS exams too).
Wish you all the best in your preparation!
Dr Shivam Bharadwaj,
MERITERS MDSPrep Team.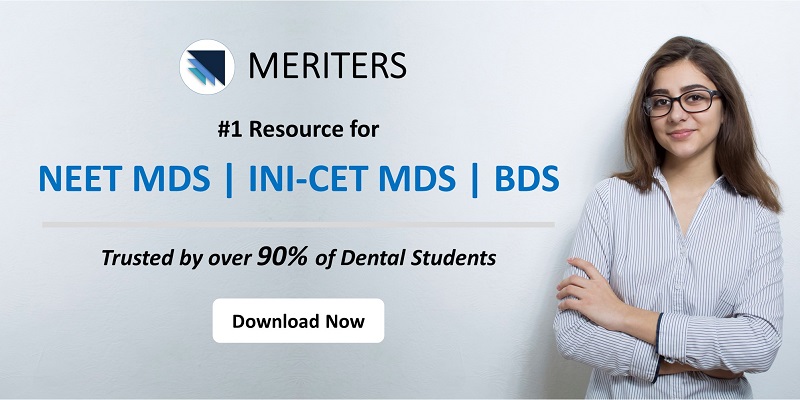 Updated Sep 24, 2020.