Tips to score good cut off in AIIMS MDS Exam
To qualify the AIIMS MDS exam, students need to score above the stipulated cut-off for that particular session. The cutoff for the AIIMS PG Exam is assigned in the percentile format. It is pertinent to note here that percentile is not the same as percentage as it does not represent the marks scored by a candidate but is rather a relative term. It is used as a benchmark to score a particular candidate's performance relative to others, who appeared in the exam. In this article, we will share some tips and tricks which will help you score a good cut off in AIIMS MDS exam. The AIIMS MDS exam provides an opportunity to BDS students to pursue specialization in the field of their choice. The major challenge for students appearing in the exam is the vast syllabus and rising competition with every passing year. Here are a few things you must do when preparing for AIIMS MDS Exam and to score good cut off in AIIMS MDS Exam.
Know your syllabus well and study according to a timetable. An organised study will take you a long way and solve half your problems. Decode the previous year papers to understand the exam pattern and acquaint yourself with the type of questions asked from various topics. If possible, take note of important topics from each chapter.
Be well accustomed with computer-based test environment
The Computer-based test is not the same as pen-paper test, as there are several factors that turn out to be the real game-changers. Be sure that you have given enough mock tests based on the AIIMS MDS exam pattern before the exam. This will de-clog your mind and make you aware of where you stand from preparation view. [table id=2 /]
Anything read but not revised is only as good as not read. So, make sure you keep enough time for revision. You should have finished your study at least a month before the exam so that you can invest last months in revision. This is also the time to revisit and refresh the concepts that you keep forgetting. Also, ensure that you do not study any new topic or concept at this stage.
Number of Questions to attempt
A general query of candidates appearing for the AIIMS MDS exam is how many questions they should attempt to ensure a seat in the merit list? Nobody can tell if you will make it to the merit list until the cut-off score is released. The cut-off score varies from test to test, depending upon the difficulty level of the exam, and performance of other candidates but to be on the safer side, candidates should endeavor to solve at least 75 questions correctly to be eligible for the counseling. This may vary from result to result but with 75 correct attempts, you can expect your name in the merit list.
Beware of Negative Marking
The newly introduced negative marking poses a major challenge for the candidates appearing for the AIIMS MDS exam. Students have to think twice before marking their choice even if they are 100 percent sure. 1/3 of the mark is deducted for every wrong answer. Hence it is advised that students take a good experience of the mock test, in order to save themselves from falling prey to negative marking in the actual exam. Here are a few things you should keep in mind when you are attempting the AIIMS MDS exam.
Do not give into guesswork
Read the questions and options carefully
Ace the art of time management
Approach the exam with a cool mind
Do not spend more than 45 seconds on one question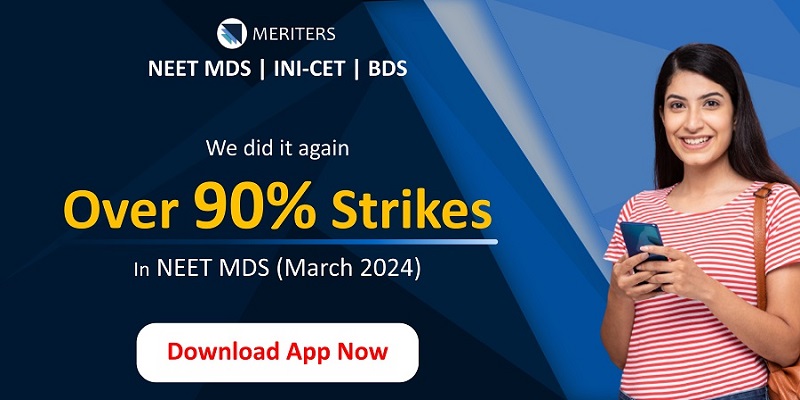 Updated Dec 11, 2020.