General Pathology: Strategy for NEET MDS / INI-CET
General Pathology is a very scoring and important subject for dental students. Studying with the right approach and mindset, itís very easy to get a good hold on this subject.
In order to guide you in your preparation of General Pathology, MERITERS Expert have compiled this article which will provide insights from the perspective of NEET MDS Exam.
A lot of questions in exams appear from general aspect of pathology. Approach should be to have basic understanding of the normal physiology of the different systems. Once you know the normal it is easy to understand the deviation from the normal, which is exactly what pathology is.
Coming to the exam point of view, in NEET MDS as well as INI CET, a lot of questions are asked from the Cellular chapter and very few from Systemic Pathology.
Previous year analysis for Weightage of General Pathology in NEET MDS:
5-11 questions out of 240 Questions: 4%
From competitive exam point of view, it is important to solve at least past 6 year questions from NEET MDS , INI-CET.
Coming to the pattern of questions asked in NEET MDS and INI CET, a lot of focus is made on Image Based Questions (IBQs) from Robbinís Pathology.
Robbins and Kumar Basic Pathology-Vinay Kumar
It is difficult to complete everything in general pathology whole Robbins is difficult, so to make it easy for students, we have compiled all the important information from Robbins and Harsh Mohan and condensed it in an easy form in BYTES. All topics important from NEET MDS and INI CET point of view, have been covered in BYTES.
Tasks:
Reversible, Irreversible and re-perfusion cell injury
Adaptive changes due to cell injury
Necrosis
Apoptosis
Amyloidosis
Acute and Chronic inflammation
Inflammatory Mediators
Wound Healing
Haemodynamics and Haemostasis
General Aspects of Neoplasm
Shock and DIC
Bleeding Disorders
Anemia
Leukemia and Lymphoma
Genetics
General Pathology Image & Case Based
General Pathology Full Syllabus Test
Be focused. Approach the subject by completing the Videos, BYTES, GEMS and QBank. Complete your task on time. Consistency and revision is the key to ace your NEET MDS and INI CET!
Stay Tuned for More Updates!
Keep Following MERITERS!!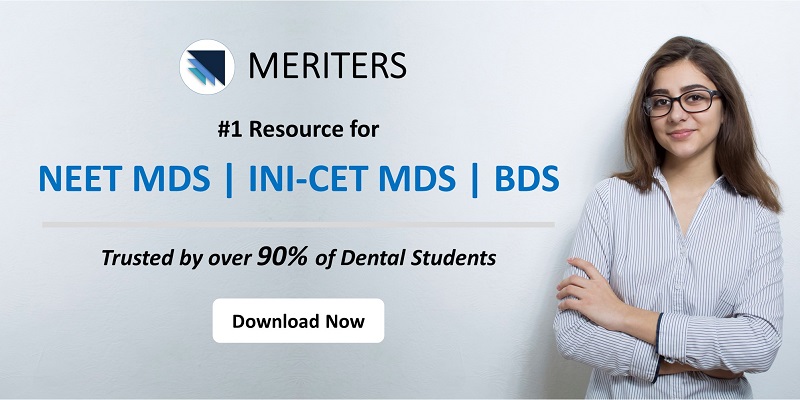 Updated Jun 09, 2022.