NEET MDS - How To Prepare For Fixed Partial Denture?
Fixed Partial Denture is a part of Prosthodontics which is considered to be an important and extensive subject in NEET MDS. At least 2-5 questions from Fixed Partial Denture can be expected in the NEET PG Exam. This subject requires a thorough study of exam pattern and the ability to recognize the important topics.
We have compiled a list of Questions in this article, which MERITERS experts will answer and are very essential for an effective and efficient preparation:
What is the subject wise Weightage?
Which Books to refer?
How much Time should be allocated to the subject?
How much Time should be allocated to each Topic?
How many times should the subject be Revised?
What is the Ideal time to Start the subject?
What are the Important Topics for NEET MDS?
Types of Questions asked?
What is the subject wise Weightage?
How much Time should be allocated for the Subject?
Theory reading – 1-2 Days
MCQ Practice- 1 week

How much Time should be allocated to each Topic?
Theory reading – 2-3 Hours
MCQ Practice- 6-8 Hours

How many Times should the subject be Revised?
4-6 times revision is required

What is the Ideal time to Start the subject?
4th quarter of the preparation
After completing 17-19 subjects
Fixed Partial Denture - Important Topics
UNIT NAME
MOST IMPORTANT TOPICS

Diagnosis and treatment planning

Diagnostic Casts
Indications, Contra Indications
Pontic Designs, Trauma from Occlusion
Mouth Preparation
Cantilever

Retainers and connectors

Components of FPD
Indications for Non-Rigid FPD
Partial Veneer Crowns Indications and Contra Indications Porcelain Jacket Crown

Abutments

Ante's Law
Optimum Crown-Root Ratio
Root Surface Area of Each Tooth

Pontics

Types of Pontics and their Important Features
Gingival End of Pontic
Pontics Suitable for Anterior Region
Pontics Suitable for Posterior Region

Technical considerations

Forces acting on Abutment Tooth
Structural Durability
Retention, Taper
Freedom of Displacement
Reduction, Types of Crowns
Three-Quarter Crowns
Retentive Grooves
Porcelain Jacket Crown
Indications of Laminates
Metal Ceramic Restorations
Types of Finish Lines and their Indications
Pier Abutment
Lost Salt Technique
Maryland Bridge
Rochette Bridge
Virginia Bridge

Miscellaneous

Gingival Retraction
Failure of Abutment

Cementation and post- cementation problems

Thickness of Luting Cement
Occlusal Disharmony

Occlusal considerations

Variation between Centric Relation and Maximum Intercuspation
Canine Protected Occlusion
Bennett Shift
Bennett Movement
Working Side
Non-Working Side
Selective Grinding
Beyron's Point
Types of Bone Quality
Obturators
What Type of Questions were asked in NEET?
1. Single best answer
Case Based
Fact Based (Memory)
Concept based
Numerical/Value Based
2. Image based questions
3. True or false type questions
Please watch the above featured video for more detailed explanation about this article.
We hope this blog will assist you in preparing this subject meticulously for MDS entrance exams.
Prepare judiciously..

Keep Following MERITERS!!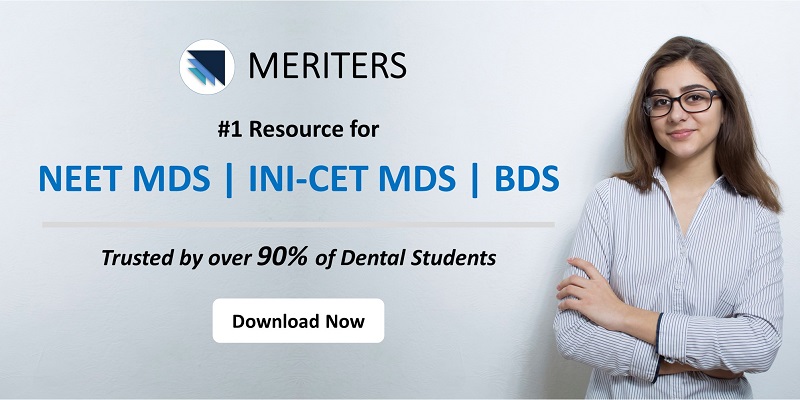 Updated Sep 09, 2020.