NEET MDS Preparation: Choosing Between Self-Study and Professional Coaching
Starting your preparation for the NEET MDS exams means you have to make many important choices. One of these choices, which can greatly affect how you prepare, is deciding between studying by yourself or getting help from professional tutors.
It's important to know the pros and cons of both these methods, so you can make the best choice for your specific situation.
NEET MDS Preparation: The Self-Study Route
When it comes to self-study, you are the master of your own learning pace, goals, and schedule.
NEET MDS Preparation: Advantages of Self-Study:
Your Own Schedule: When you study by yourself, you get to decide when and how long you study. This flexibility means you can take more time on subjects you find difficult.
Saves Money: Studying by yourself can also be cheaper. You only need to spend money on good study materials and resources.
NEET MDS Preparation: Problems with Studying Alone:
Staying on Track: It can be hard to keep yourself motivated and consistent without a set study schedule.
Getting Help: If you're studying alone, you might not be able to get answers to your questions right away.
Using the MERITERS MDSPrep Professional Coaching App
Professional coaching platforms like MERITERS MDSPrep provide a set study plan, help from experts, and regular tests for those studying for the NEET MDS exams.
Benefits of Using MERITERS MDSPrep:
Help Anytime: With MERITERS MDSPrep, you can ask experts to clear your doubts anytime using a special WhatsApp group.
Lots of Study Materials: The app provides more than 25,000+ MCQs (including ones with images and case studies), 400+ task modules, national Mock tests, subject and revision tests, past exam papers, high yield videos and a marathon of over 3000+ MCQs.
Regular Tests: The app regularly tests you and gives you national level mock tests to help you figure out where you need to improve.
Drawbacks of Professional Learning:
Cost: Professional learning can cost more. But the benefit of having a set study plan, a lot of study resources, and help from experts can make it worth the cost.
Set Times: There might be set times for certain activities. But the app lets you study whenever you want, giving you some flexibility.
Final Thoughts: Studying Alone or Using the MERITERS MDSPrep App?
Choosing between studying alone or using a professional learning app like MERITERS MDSPrep for your NEET MDS exam depends on your learning style, budget, and time management skills.
Both methods have their own pros and cons.
Considering the features of the MERITERS MDSPrep app, it could be a worthy choice for your NEET MDS preparation.
Always remember, regular effort, consistent practice, and commitment are crucial to ace the NEET MDS exam.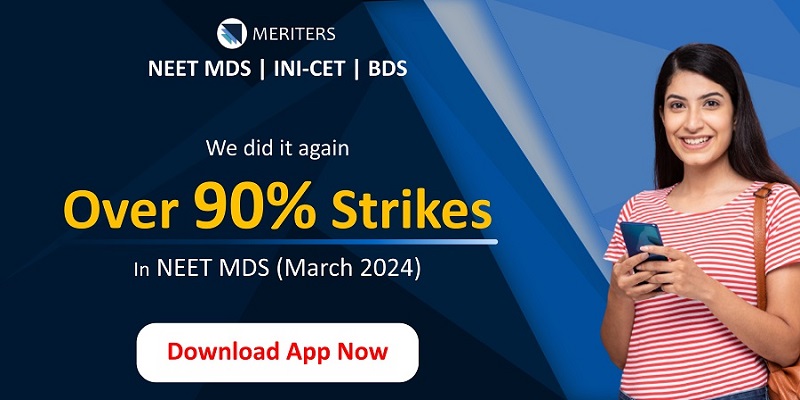 Updated Jul 19, 2023.