MERITERS MDSPrep : No.1 App for Dental Students
MERITERS MDSPrep: The #1 Resource used by Dental Students crosses 1 LAKH+ App Download!
Dental students struggle to prepare efficiently for PG Entrance due to lack of time to cover the vast syllabus with scattered study resources and inability to revise offline lectures.

MERITERS MDS Prep is an efficient online learning platform to provide easy to read, organised, high yield notes, QBank with detailed Explanation from Standard Textbooks, prepared with collaborative team effort to save time and improve efficiency of students preparing for Dental PG Entrance.

Since its inception in 2018, MERITERS has established itself as a leading learning platform for Dental students in India.
MERITERS MDSPrep: #1 Resource for Dental Students
MERITERS - MDSPrep is the #1 resource used by Dental Students to prepare for MDS Entrance exams like NEET MDS, INI-CET MDS.

A complete comprehensive package, designed for dental students of all preparation levels, a recipe for success, this plan takes all the confusion out of preparation.

Provides everything you need for preparation and a clear plan for success.

What makes MERITERS Unique?
25,000+ Practice MCQs (Image Based, Case Based, Clinical)
High Yield Notes (BYTES & GEMS)
Videos Lectures
Daily Tests
Guided Prep
Chapter-wise Tests
Cumulative Tests
Mini Mocks
Grand Tests
Marathon
Mentorship Program
Performance Analysis
All India Ranking
How to ace your preparation with MERITERS MDSPrep?
Here is how you can utilize the MERITERS App during your preparation phase to give your best shot at NEET MDS and INI-CET MDS Exams.

1. Highly Effective & Efficient Preparation through High Yield Notes and Explanatory Lecture Videos on MERITERS – MDSPrep
Chapter-wise high yield concise notes with content relevant to NEET MDS and INI-CET MDS.
Chapter-wise explanatory lecture videos by experts & top rank holders.
It always seems impossible until it's done.

2. Boost your preparation through practicing real exam type MCQs on MERITERS – MDSPrep
25,000+ Highly selected MCQs relevant for NEET MDS, INI-CET.
Repeated and High Yield MCQs with authentic explanations wherever applicable.
Concept builders, Image based MCQs, High yield MCQs.
Most recalls from our question bank from recent NEET MDS and INI-CET MDS exams.
Believe you can and you're halfway there.

3. Build confidence with extensive Test Series on MERITERS –MDSPrep
Free Daily Live Tests Topic wise.
30+Grand Tests for NEET MDS, INI-CET MDS.
200+ New Chapter wise Tests
Be ready to fail 'cause only then you are ready to succeed.

4. Mentorship Program & Guidance by our experts on MERITERS – MDSPrep
Guidance by our Expert Team of Faculties.
Periodical & Timely Exam Updates, Preparation Strategies, Books & Question Paper Reviews, Analysis and
Planned Tasks to guide you with your preparation in an organised manner.
Preparation Strategy videos to help you prepare for each subject efficiently.
Doubt kills more dreams than failure ever will.

5. Performance Analysis and National Ranking on MERITERS – MDSPrep
Subject-wise and Chapter-wise Analysis, All India Ranking.
Analyze your core strengths & weaknesses.
Improve Accuracy & Timeliness.
Build confidence through the real exam type interface.
Strive for progress, not perfection.

6. Discussion Board (Social wall) on MERITERS – MDSPrep
Regular sessions are conducted on WhatsApp and Telegram.
Discussion board where you can clarify your doubts with the medical fraternity.
Keep yourself updated with the latest information about NEET MDS, INI-CET and other MDS Medical entrance exams.
Receive daily notifications about New Questions posted.
The best view comes after the toughest climb.

7. MERITERS - MDSPrep Blogs
Read articles & updates regarding NEET MDS, INI-CET, and other MDS Medical entrance exams.
Read Topic/Subjects related articles.
Watch or read subject preparation strategy videos and articles.
Will it be easy? Nope. Worth it? Absolutely.

8. MERITERS - MDSPrep Feedback
The app will allow you to challenge the answers and give the explanation to it.
Feedback section allows you to not only complain but suggest anything that you wish for.
A Community guided approach to allow everyone to build the content together error-free.
View videos at your own pace from home. No travelling, No long hours, No missing college or internship activities.

Every accomplishment starts with the decision to try.

MERITERS MDSPrep Team wishes you all the best with your preparation for NEET MDS & INI-CET MDS Preparation! Stay Tuned and Keep following MERITERS MDSPrep for regular updates!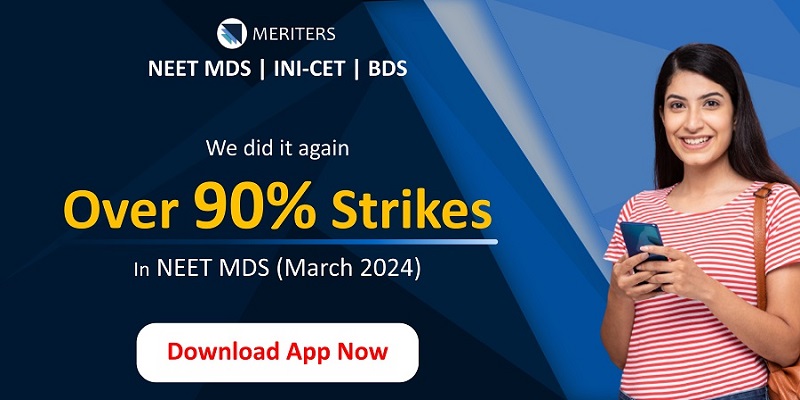 Updated Jun 22, 2021.