Strategy: General Surgery for NEET MDS and INI-CET
General Surgery is a highly significant subject from a dental pg entrance perspective since it forms the basis for Oral Surgery. Basic knowledge of Head and Neck Anatomy forms the prerequisite for General Surgery for Dental Students.
Watch dental videos at your own pace from home with MERITERS MDSPrep. No travelling, No long hours, No missing college or internship activities.
Weightage trend for General Surgery:
Important Topics of General Surgery:
Pertaining to the vast syllabus of General Surgery, it is not possible for students to read everything in detail. Keeping that in mind, MERITERS Experts have created Tasks based on Important topics from NEET MDS and INI-CET point of view.
Basics of Thyroid Gland
Diseases of Thyroid gland
Tumors of Thyroid gland
Diseases of Salivary Glands
Infections Part 1
Infections Part 2
Head Injury
Fractures and Dislocation
Cleft Lip and Palate
Swellings, Ulcers And Tumors of Head And Neck
Diseases of Larynx and Pharynx
Burns
Fluid Management
Wound Healing
Shock and Hemorrhage
Blood Products, Transfusion and Miscellaneous
Arterial and Venous Disorders
Diseases Of Salivary & Thyroid Glands - Part 1
Transfusion, Shock, Burns And Wound Healing
Diseases Of Salivary & Thyroid Glands - Part 2
Infections
Traumatology
Diseases Of Larynx And Pharynx
Multiple Topics 1
General Surgery Full Syllabus Test (GP)
Multiple Topics 2
General Surgery Image Based Test (GP)
Standard Textbooks for General Surgery:
For the ease of preparation and to save the studentís time, MERITERS Content Experts have compiled BYTES which is a compilation of notes. GEMS is a compilation of high yield points in a condensed form.
MERITERS MDSPrep provides a complete comprehensive package designed for students of all preparation levels.
Here is how you can ace your general surgery preparation with MERITERS MDS Prep App:
Refer to the question papers of previous 5 years.
Watch the high yield topicwise recorded videos on MERITERS App
Going through BYTES & GEMS as per the tasks mentioned in the Guided Prep Section in the app.
Practice Chapter-wise MCQs available in the MERITERS QBank Section.
Test your performance with the Daily Live Tests.
Analyse your test performances
Revision,revision and revision!
Thoroughly preparing the above-listed Topics would definitely help you answer majority of the questions from General Surgery in NEET MDS.
Stay motivated and focused!
Keep following MERITERS for latest updates!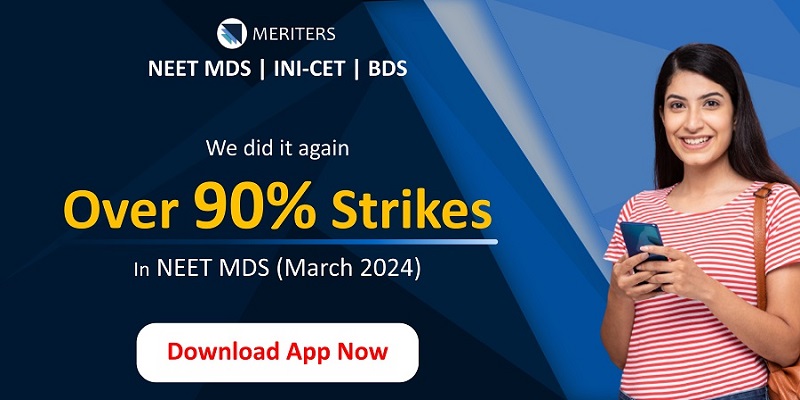 Updated Jul 21, 2021.