General Anatomy: Strategy for NEET MDS & INI-CET
Anatomy is one of the most important and extensive subjects in the medical science. In a course like dentistry, it forms the ground for the basics of subjects like General Surgery and Oral Surgery.
In order to complete the vast and memory based syllabus within the stipulated time frame, selective approach is the best way to prepare General Anatomy for NEET MDS or INI-CET MDS.
Important Topics of General Anatomy for NEET MDS:
In the above video, MERITERS Expert has shed light upon the important topics which are segregated as Task in the MERITERS App.
The tasks are prepared based on important topics from previous year exam recalls:
Osteology
Foramina and Passing Structures
Glands of Head and Neck
Mouth and Pharynx
Larynx
Tongue
Arterial supply of Head and Neck
Venous and Lymphatic supply of Head and Neck
Trigeminal and Facial Nerve
Nerve Supply of Head and Neck
Pharyngeal Arches
Muscles of Head and Neck
Embryology Part 1
Embryology Part 2
Triangles of Neck
Miscellaneous part 1
Miscellaneous part 2
Anatomy Image Based Test
Anatomy - Full Syllabus Test
Books to refer for proficiency in anatomy :
ANATOMY : B.D.Chaurasia's Human Anatomy Volume 3
EMBRYOLOGY : Inderbir Singh - Textbook of Human Embryology
HISTOLOGY : Inderbir Singh - Textbook of Human Histology
In order to save time and for the ease of students, we have compiled Bytes referring to standard textbooks, which includes all important points and images pertaining to probable questions that can be asked in the competitive exams. It is advised to refer to Netters atlas for any further illustration.
Best approach to prepare for Anatomy:
Prioritizing the topics mentioned in the Tasks.
Going through the Videos and Synopsis under BYTES section on the MERITERS MDS Prep App in the Anatomy section under the Category Subject.
Retaining the high yield points mentioned in the GEMS under the BYTES section in the MERITERS MDS Prep App.
Solving MCQs based on those topics under QBank and Test Series.
Applying the approach mentioned in this article will help you solve the majority of the questions meticulously from Anatomy in NEET MDS and INI-CET!
A minimun of 3 readings are necessary to ace your preparation.
Dedicatedly preparing the above mentioned topics will assist you in answering the majority of questions from General Anatomy in your entrance exam.
Good Luck!
Stay Tuned and Keep Following MERITERS!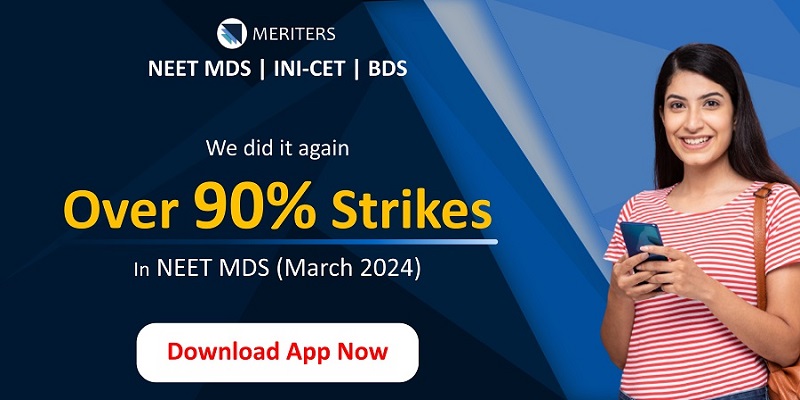 Updated Aug 18, 2022.