Endodontics: Strategy For NEET MDS/INI-CET
Endodontics needs a good preparation strategy given the fact that tricky and clinical conceptual based questions are asked from this subject in NEET MDS & INI-CET MDS.

In this article, we have discussed in detail about the Endodontics Strategy For NEET MDS and INI-CET MDS to help you ace your exams by focussing on important areas from exam point of view within the stipulated time frame.
This article will cast light on:
Past year question trend for Endodontics in NEET MDS
Important topics of Endodontics for NEET MDS and INI-CET MDS
Standard Textbooks for Endodontics for NEET MDS and INI-CET MDS
How to utilise MERITERS MDSPrep App to ace Endodontics preparation for NEET MDS and INI-CET MDS
Past year weightage: Endodontics - NEET MDS

Standard Textbooks for reference:
As days are numbered, it is imperative to properly prepare this subject along with smart study to complete the syllabus on time.

To ease your preparation, MERITERS Experts have prepared BYTES referring Standard Textbooks to assist you in preparing for Endodontics, so that you donít miss any important topic from entrance exam point of view.
The Most Important Topics of Endodontics for NEET MDS have been covered in MERITERS MDSPrep App under TASK in Guided Prep Section:
Dental Pulp and Tooth Morphology
Access Cavity Preparation
Pathologies of Pulp
Periapical Pathologies
Instruments, Materials and Devices
Working Length and Cleaning & Shaping
Obturation
Dental Bleaching
Surgical Endodontics
Endodontic Traumatology
Endodontic Diagnosis
Restoration of Endodontically Treated Teeth
Endodontics Image & Case Based
Endodontics Full Syllabus Test
How to prepare using MERITERS App?
Complete BYTES and GEMS (High Yield Videos and Synopsis)
Complete TASKS to get a good grasp on other important topics
Take Daily Live Tests and Mini-Mock Tests to analyse your preparation.
Revision is the key
A minimum of 3 readings are necessary to ace your preparation. Dedicatedly following the strategy mentioned in this article will help you in answering the majority of questions from Endodontics in your dental entrance exams.

Good Luck!
Stay Tuned and Keep Following MERITERS!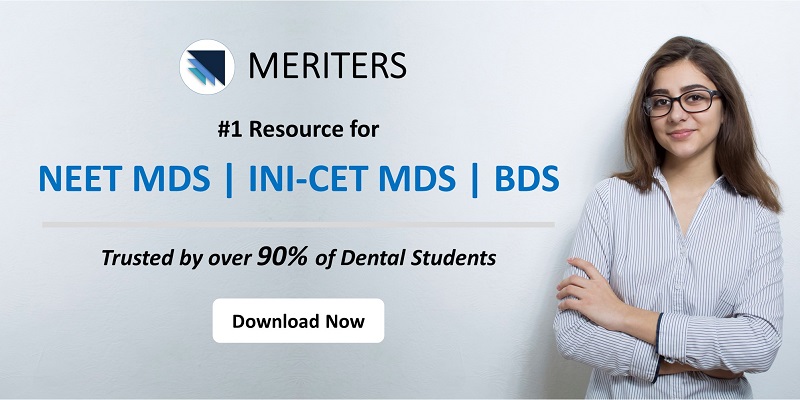 Updated Jul 06, 2021.