Microbiology : Strategy For NEET MDS / INI-CET 2022/23
Microbiology is a vast subject with detailed information to remember. In order to master this subject it is important to solve recent past year medical(NEET PG and INI CET) as most of the questions are repeated directly from there in NEET MDS Examination.
In order to guide you in your preparation of Microbiology, MERITERS Expert have compiled this article which will provide insights from the perspective of NEET MDS Exam.
Expected number of questions in NEET-MDS from Microbiology is 7-10/240.
Past Year NEET MDS Question Weightage:
2016: 2 Questions
2017: 7 Questions
2018: 10 Questions
2019: 10 Questions
2020: 9 Questions
2021: 6 Questions
2022: 7 Questions
Recommended Standard book:
Ananthanarayan and Paniker's Textbook of Microbiology
From competitive exam point of view, it is important to solve at least past 5 year questions from NEET MDS, INI-CET and NEET PG. In order to save time and to make it easy for students, we have compiled Bytes referring standard textbooks in such a way that it makes it easy for students.
As the competitive exam pattern has shifted from cramming to conceptual based questions, we have divided the MICROBIOLOGY syllabus into tasks based on most important and frequently asked topics in the competitive exams.
Tasks
Culture Media
Complement Pathway
Immunology
Hypersensitivity
Types of microscopy
Sterilization
General Characteristics of Bacteria
Bacteriology Part-1
Bacteriology Part-2
Virology Part 1
Virology Part 2
Mycology and Parasitology
Microbiology Image & Case Based
Microbiology Full Syllabus Test
Best approach to prepare for the subject MICROBIOLOGY using MERITERS app is by:
Prioritizing the topics mentioned in the Tasks.
Going through the Videos and Synopsis under BYTES section on the MERITERS MDS Prep App in the Microbiology section under the Category Subject.
Retaining the high yield points mentioned in the GEMS under the BYTES section in the MERITERS MDS Prep App.
Solving MCQs based on those topics under QBank and Test Series.
Selective study and Past Year question is the key to solve MICROBIOLOGY questions easily.
Four times revision is a must for this subject.
Applying the approach mentioned in this article will help you solve majority of the questions meticulously from Dental Anatomy in NEET MDS.
For detailed summary of Must Study Topics from Microbiology Click here
Stay Tuned for More Updates!
Keep Following MERITERS!!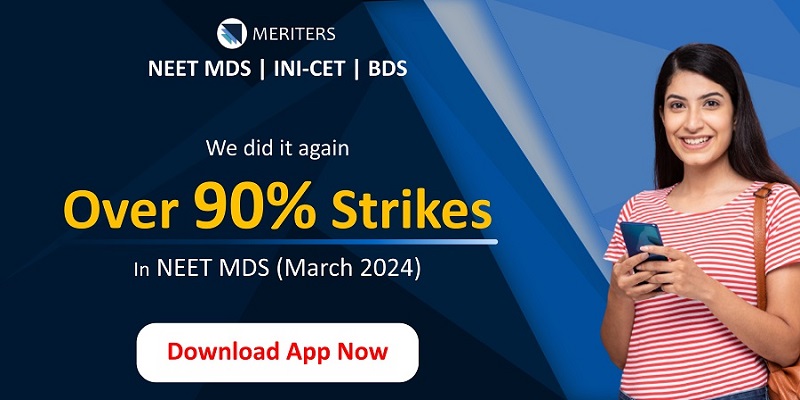 Updated Jun 06, 2022.