Top 10 Frequently Asked Questions About NEET MDS
Every year, many dental students aspire to crack the NEET MDS exam to get into top dental colleges. Understandably, they have many questions about the exam. Instead of spending hours searching online, we solve all your doubts about the NEET MDS exam with clear answers
1. What is NEET MDS?
NEET MDS is an entrance exam in India for postgraduate dental courses like Master of Dental Surgery (MDS). Conducted by the National Board of Examinations (NBE), it's required for getting into government, private, and deemed dental colleges across the country.
2. Is NEET MDS exam tough?
The difficulty of the NEET MDS exam can vary from person to person, based on their preparation and familiarity with the subjects. However, it is generally considered a competitive and challenging exam.
3. When Is the NEET MDS Exam?
The exam is usually once a year.
For 2024, the date isn't fixed yet but it's expected in March.
Last date to apply will likely be in January 2024.
4. What are the eligibility criteria for NEET MDS?
You need a BDS degree from a recognized university.
Must be registered with Dental Council of India or State Dental Council.
Minimum age is 20 years.
Complete 1-year internship on or before June 30, 2024
5. What is the exam pattern for NEET MDS?
It's a computer-based test.
3 hours long.
240 multiple-choice questions.
4 marks for correct answer; 1 mark deducted for wrong answers.
The syllabus is based on the BDS curriculum.
6. How can I register for NEET MDS?
Go to the official NBE website.
Fill in your personal and academic details.
Upload necessary documents.
Pay the application fee.
For a detailed registration and how to apply,
click here.
7. When should I start preparing for NEET PG MDS?
Start in the 2nd or 3rd year of BDS if you're not confident about the basics.
If you're strong in basics, you can start in the 4th year.
Plan to study at least 6-8 hours a day.
8. How to Prepare for NEET MDS?
Know the pattern and syllabus well.
Focus on high-yield subjects like oral anatomy, general medicine, etc.
Make a study plan for practice and revisions.
Take mock tests to track your progress.
9. Can we apply for NEET MDS if we have a back paper or a pending result in the BDS course?
You can apply, but eligibility criteria must be fulfilled later.
10. What is the reservation policies for NEET MDS?
According to NEET reservation rules set by the government, Central Universities and state medical colleges allocate 27% of seats for OBC, 10% for EWS, 15% for SC, and 7.5% for ST.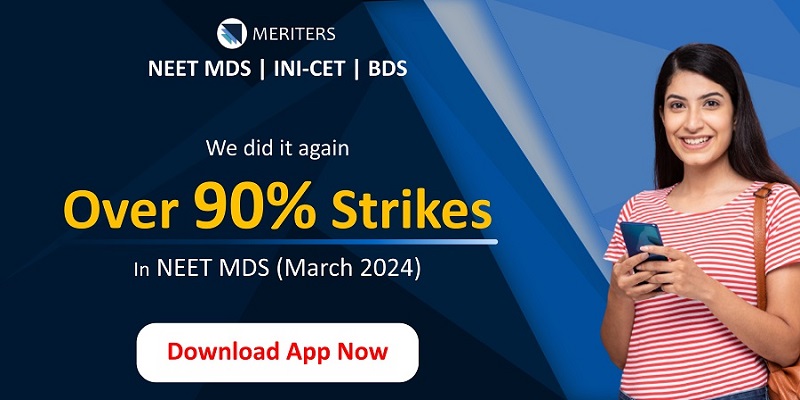 Updated Aug 30, 2023.