NEET MDS - How to Prepare For Pharmacology?
Pharmacology is among the most challenging subjects owing to its extensive syllabus and high-flown language. The terms and jargon are such that it requires repeated revision for the topic to be on one's finger-tips. Some topics are so similar that the students end up confusing one topic with other. It also requires a lot of cramming for effective memorization of topics. Apart from this, students also find a tough time learning the names of numerous drugs. Thus, it is pertinent for students to pick out important topics and study them thoroughly.
Given below are the list of Questions MERITERS experts will answer that are essential for an effective and efficient preparation:
What is the subject wise Weightage?
Which Books to refer?
How much Time should be allocated to the subject?
How much Time should be allocated to each Topic?
How many times should the subject be Revised?
What is the Ideal time to Start the subject?
What are the Important Topics for NEET MDS?
Types of Questions asked?
What is the subject wise Weightage?
14-19/240 Questions (7%)
How much Time should be allocated for the Subject?
Theory reading – 5 Days
MCQ Practice- 30-35 Days
How much Time should be allocated to each Topic?
Theory reading – 3-4 Hours
MCQ Practice- 8-10 Hours
How many Times should the subject be Revised?
6-10 times revision is required
What is the Ideal time to Start the subject?
Mid way in the preparation
After completing 7-10 subjects
Experts at MERITERS MDSPrep have come up with a list of important topics to read for the examination after analyzing the recent trends of NEET MDS. The most important topics to study are:
Pharmacology - Important Topics
UNIT
MOST IMPORTANT TOPICS
Chemotherapy

Mechanism of drugs action and Drug resistance

Methods of drug resistance
Mechanism of resistance
Superinfection and concentration dependent killing

Drugs Inhibiting Cell wall synthesis

Penicillin
Cephalosporin
Other beta lactams
Beta lactamase

Drugs inhibiting Protein synthesis

Chloramphenicol
Tetracycline
Macroleids
Aminoglycosides
lincosamides
Streptogramins

Antimetabolites, FQ and Miscellaneous

Sulphonamides
Trimethoprim
Cotrimoxazole
Fluoroquinolones
Urinary antiseptics
Other antibiotics

Antimycobacterial Antibiotics

Antitubercular Drugs
Treatment of tuberculosis
Antileprotic Drugs

Antifungal Antibiotics

Classification
Systemic Drugs for superficial fungal infections
Topical Drugs for superficial fungal infections

Antiviral Antibiotics

Classification
Anti herpes drugs
Anti influenza drugs
Antihepatitis drugs
Anti HIV drugs
ART

Anti Malarial drugs

Life Cycle of Malaria
Antimalarial Regimen
Malarial Prophylaxis

A.N.S, Blood and Endocrinal drugs

Parasympathomimetics

Autonomic nervous system introduction
Parasympathetic nervous system and receptors
Function of cholinergic system
Parasympathomimetic drugs

Parasympatholytics

Anticholinergic Drugs
Actions of antimuscuranic drugs

Adrenergic drugs

Sympathetic nervous system
Actions
Sympathomimetic & Sympatholytic drugs

Haematnics

Iron
Folic acid
Vitamin B 12
Hematopoetic growth factors

Antiplatelets

Anticoagulants

Fibrinolytics

Pituitary and Hypothalamus

Function and mechanism of action of hormones
Hypothalamus and anterior pituitary hormones

Thyroid

Thyroid hormones and related drugs
Pancreas and Diabetes mellitus
Insulin and oral Hypoglycemic Agent
New drugs for Diabetes mellitus

Corticosteroids

Calcium Metabolism
Gonadal Hormones and Contraceptives

NSAIDs and other CNS drugs
Sedative hypnotics
Antiepileptic
Antipsychotic
Opioides and Drug Addiction
NSAIDS
Rheumatoid Arthritis and Gout
General Pharmacology

Pharmacokinetics

Routes of drug administration
Absorption
Distribution
Metabolism
Excretion

Phaemacodynamics

Enzyme inhibition
Receptors
Dose response curve
New drug development

Local And General Anesthetics
Local Anaesthesia
Skeletal Muscle Relaxation
General Anaesthesia
Drugs acting on CVS, GIT And Respiratory system
Treatment of Chronic Heart Failure
Hypertension
Angina and MI
Arrythmia
RAAS
Peptic Ulcer Disease
Antiemetic and GERD
Bronchial asthma
Autacoids
Histamine
Serotonin
Migraine
What Type of Questions were asked in NEET?
1. Single best answer
Case Based
Fact Based (Memory)
Concept based
Numerical/Value Based
2. Image based questions
3. True or false type questions
Please watch the above featured video for more detailed explanation about this article.
We hope this blog will assist you in preparing this subject meticulously for MDS entrance exams.
Prepare judiciously..

Keep Following MERITERS!!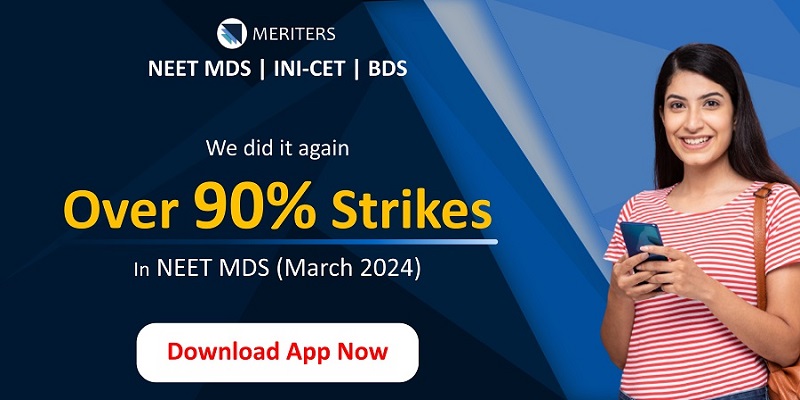 Updated Feb 07, 2021.